The Battleship Texas Foundation could not restore and maintain the Battleship Texas without the generous, tax-deductible, support of our donors. Your contributions provide visitors with a hands-on experience with this symbol of freedom. All donations are tax-deductible, and they go to fund projects such as:
On-going restoration projects on board the ship.
Developing new educational experiences for visitors and generations to come.
Preserving resources on board the ship and as a part of our historical collections
Online
Give right now through our secure online portal!
Give Now
Bring Her Home! Campaign
This final $15 million phase of Battleship Texas Foundation's capital campaign will create an entirely new visitor experience at Battleship Texas. There will be 60 total restored spaces that feature interactive, and technology driven exhibits, artificial reality, holograms, guided tours, and integrations with cell phones. There are many ways to get involved in this campaign and we invite each and every Texan, American, and person passionate about education and military history to join us in this mission.
More Info
Cash or Check
Mail your gift to The Battleship Texas Foundation, One Riverway Suite 2200, Houston, Texas 77056 ℅ VP of Development
Simply make your check payable to the Battleship Texas Foundation and include any fund you'd like to support in the memo line.
Donor Advised Funds, Required Minimum Distributions, and Qualified Charitable Contributions
The Battleship Texas Foundation gratefully accepts donations from retirement accounts and donor advised funds
Simply ask your financial advisor or fund manager to send a charitable contribution to the Battleship Texas Foundation, Tax ID 76-0449761
Did you know – donors 70 ½ and older can make a tax-free donation directly from their retirement accounts up to $100,000? For more information, email

[email protected]
Estate Gifts
Create a legacy at the Battleship Texas by bequesting a portion of your estate to support the Battleship Texas Foundation and help preserve Battleship Texas for decades to come.
Contact the VP of Development for more information on how to include the Battleship Texas Foundation in your Estate Plans
Email to

[email protected]
Stocks and Bonds
To make a stock or bond donation, please contact Matt Pham, VP of Development, at [email protected].
Online Store
Shop our collection of battleship merchandise to support Battleship Texas!
Shop Now
Each Paperweight is unique and handcrafted from original steel removed from Battleship Texas during repairs. Paperweights are roughly 3″ by 3″ and their thickness varies between 1/4″ and 3/8″. For a tax-deductible donation of $150, you can own your own piece of Battleship Texas.
Donate
Battleship Texas Steel Plaque
Original Steel – Handcrafted
Each Plaque is unique and handcrafted from original steel removed from Battleship Texas during repairs. Plaques are roughly rectangular, have 6 to 8 rivets, and typically measure from 7″x7″ to 9″x9″. For a tax-deductible donation of $1,000, you can own your own piece of Battleship Texas.
Donate
Colt 1911 – Dry Dock Edition
To celebrate one year in dry dock, the Battleship Texas Colt 1911 is back with a limited Dry Dock Edition, from now until Battleship Texas leaves dry dock in 2024. Guns are in production now, delivery is expected in April 2025.
Donate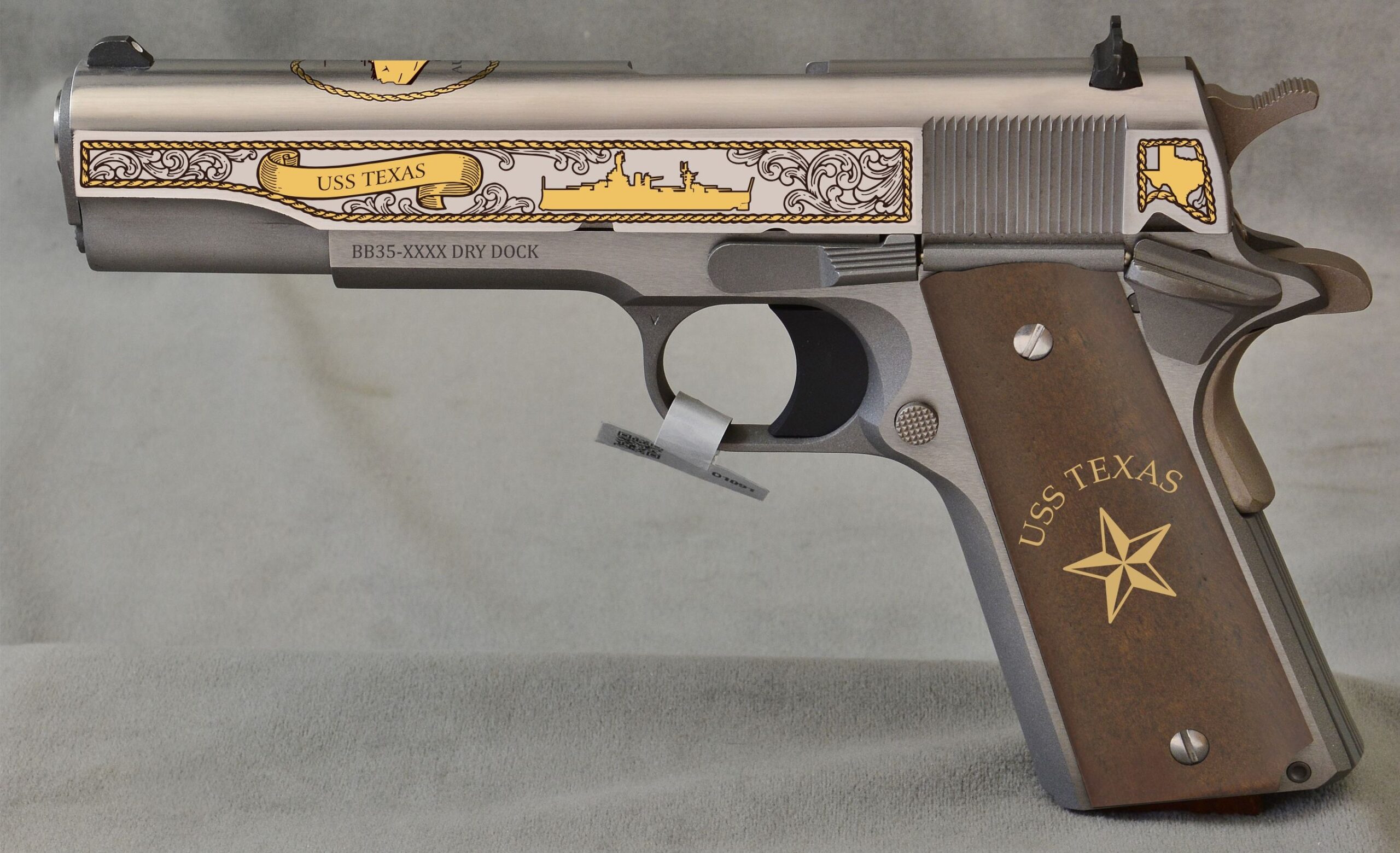 Artisans all around Texas and North America are creating unique and functional works of art using materials reclaimed Battleship Texas. These items, which include knives, jewelry, pens, bottle openers, guitars, and other art pieces will be auctioned for the benefit of Battleship Texas.
Learn More